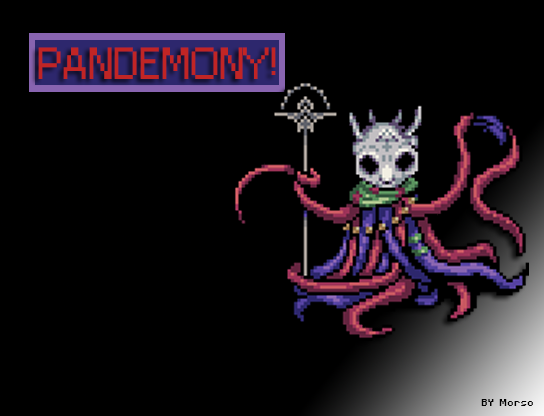 Pandemony!
A downloadable game for Windows
Come and relax on tropical Sasori Island!
Explore the Rolling Hills, Relax in the Dune Desert and pay your respects in the Deadlands. Sasori is home to the famous Fighter's Guild and the majestic Mage's Guild! If you look hard enough, you might even find the rumoured Thief Legion!
Worship the Godess at Mera's Temple, or pray to the downtrodden at the Gargoyle Temple.
Whatever you do, do it in style as one of five playable classes!
Fighter
Cleric
Rogue
Wizard
Monk
Nothing can go wrong! Can it?
(Do't forget to join the Discord Server)

Pandemony! is a role-playing game which centres on doing guild quests, exploring the world and growing stronger with a custom party.

The controls are simple:
Move with the arrow keys
Jump with the A key
Run with Shift

(Run and Jump to clear two tiles)
Interact or Select a menu option with Space or Enter
Open the menu with ESC
Scroll between party members in the Status menu with Q and W
Fullscreen mode can be entered with F5
Download
Click download now to get access to the following files:
Pandemony! 1.1.exe
228 MB
Pandemony! LITE.exe
228 MB
Pandemony! 1.0.exe
228 MB
Pandemony! BETA.exe
227 MB
Comments
Log in with itch.io to leave a comment.
1.0 is finally here, feels like it took years. Time to chill in Sasori for a bit!
Hey, I kinda like it!
It's kind of vague and traditional, but that's kind of what's nice about it.
It says "BETA" on the file, but is there any idea how long the game is as of now?
Thanks for the kind words! The beta version has been out for a few days, and I'm working in some general bug fixes as well as a new worldspace for the post-game, and a short story to go along with it.
The beta has the entire main quest and all of the guild quests, though some of them need tweaking for the final version. I estimate the final game will be revealed in 2-3 months at most!